CHENNAI: With two sessions of the 17th Lok Sabha completed so far, Tamil Nadu MPs have fared lower than the national average in House attendance.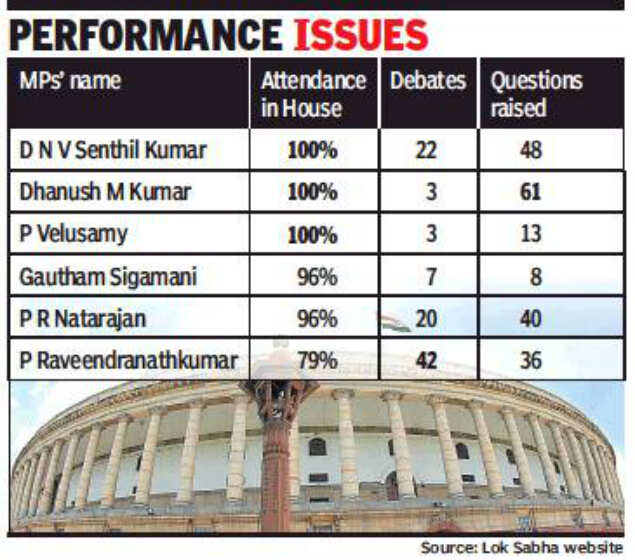 Same is the case with Rajya Sabha MPs from Tamil Nadu too, data uploaded on the websites of the two Houses show.
Anbumani Ramadoss, PMK Rajya Sabha MP, has the worst attendance of 15% among those from Tamil Nadu in both Houses.
Since being elected an MP earlier this year, Anbumani Ramadoss has participated in only two debates and has not posed any question or moved any private member bill. In the Lok Sabha, the average attendance is being pulled down by S Jagathrakshagan, DMK MP from Arakkonam constituency, whose attendance is only 46%.
Out of the 39 Lok Sabha MPs, only three have 100% attendance and nine MPs have more than 90% attendance. Incidentally, Tamil Nadu has 26 first-time MPs.
P Raveendranath Kumar, the lone ruling AIADMK MP, has participated in 42 debates, the maximum among all the MPs from Tamil Nadu.
"Since he is the only MP from the party, he gets a chance to speak in all debates," said a former AIADMK MP.
Yet, he has only 79% attendance, which is lower than the state and national average. "These are initial days of the Lok Sabha. Being first-time MPs, they need to be given time to settle down. But that does not give them the liberty to skip sessions. Whether new or old, they need to be present in the House when the session is on," said the former MP.
Analysts feel that over the years, the performance of both Houses as well as that of the MPs have declined. Recently, when the Citizenship Amendment Bill was discussed and passed in both Houses, senior ministers were not present.
It reflects lack of involvement, said Jagdeep Chokkar, founder of Association for Democratic Reforms.
Chokkar said the present ruling party did not allow Parliament to function in 2012 and 2013 and now even the Prime Minister is not attending Parliament regularly.
"If an MP has only 15% attendance, it shows that the member is busy doing other things which he considers more important than attending the House," said Chokkar.
Most MPs discuss only state or national issues. They do not take up issues pertaining to their respective constituencies, data show. It is true with MPs from across parties and states.