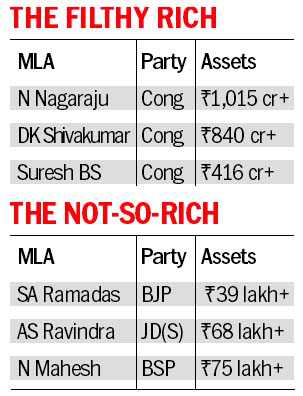 Amid allegations of horse-trading and offers as big as Rs100 crore to legislators to switch sides in Karnataka, election watchdog ADR has come up with an analysis of assets and background check of winning candidates.
The average assets of newly elected MLAs in the May 12 Karnataka polls rose from Rs10.05 crore in 2008 to Rs34.59 crore in 2018, as per the Karnataka Election Watch and Association for Democratic Reforms, who analysed self-sworn affidavits of 221 of the 222 MLAs on education, criminal records and assets.
Assets of re-elected 94 MLAs (2013 to 2018) increased by 90 per cent. ADR says average assets of re-elected MLAs in 2013 was Rs28.07 crore and in 2018 Rs53.40 crore. Barring a couple (who also have assets worth lakhs), 215 newly elected MLAs (97%) are crorepatis. Of the 218 MLAs analysed during 2013 elections, 203 (93 per cent) were crorepatis.
The top three are from the Congress — N Nagaraju from Hosakote constituency (Rs1,015 crore plus) DK Shivakumar from Kanakapura (Rs840 crore plus) and Suresh BS from Hebbal (Rs416 crore plus).
The ones with lowest assets are SA Ramadas from Krishnaraja (BJP; Rs39 lakh plus), AS Ravindra from Shrirangapattana (JD(S); Rs68 lakh plus) and N Mahesh from Kollegal (BSP; Rs75 lakh plus).
A sizable number of 80 (36%) declared their educational qualification as between Class V and Class XII, 135 (61%) graduate or above. As many as 77 (35%) MLAs had declared criminal cases against themselves. As many as 54 (24%) legislators have serious criminal cases, including related to attempt to murder and kidnapping, against them.