RAIPUR: Among the state assemblies across the country, Chhattisgarh has the highest percentage of women MLAs. Besides, Chhattisgarh also stands at second position among top five states with the 'highest percentage of women candidates' for state assembly elections. This is according to a report by Association for Democratic Reforms (ADR).
As per the ADR report on "Women's Political Participation and Representation in India," released on International Women's Day on Friday, "Among the state assemblies, Chhattisgarh, Jharkhand and West Bengal have the highest percentage of women MLAs." Chhattisgarh and Haryana top the list with 14.44 per cent women representation in their respective state assemblies, while West Bengal is on second position with 13.99 per cent.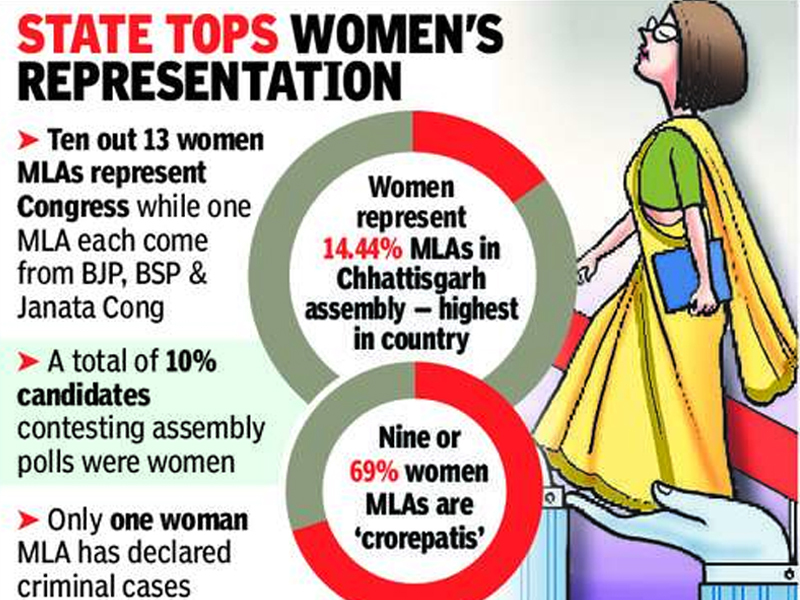 After the recent state assembly elections in 2018, as many as 13 women representatives were elected to Chhattisgarh legislative assembly. Out of 13 women MLA, 10 represents Congress including Dondi Lohara (ST) MLA and Women and Child Development Minister Anila Bhediya, Baikunthpur MLA Ambika Singh Deo, Sarangarh (SC) MLA Uttari Ganpat Jangde, Takhatpur MLA Rashmi Singh, Kasdol MLA Shakuntala Sahu, Dharsiwa MLA Anita Sharma, Sihawa (ST) MLA Dr Laxmi Dhruw, Sanjari Balod MLA Sangita Sinha, Pandariya MLA Mamta Chandrakar and Khujji MLA Chhanni Sahu.
Only one women representative from BJP, BSP and JCC each could make it to the Chhattisgarh legislative assembly. Dhamtari MLA Ranjana Sahu represents BJP and Pamgarh (SC) MLA Indu Banjare represents BSP. While former chief minister Ajit Jogi's spouse and Kota MLA Renu Jogi represents JCC in the house.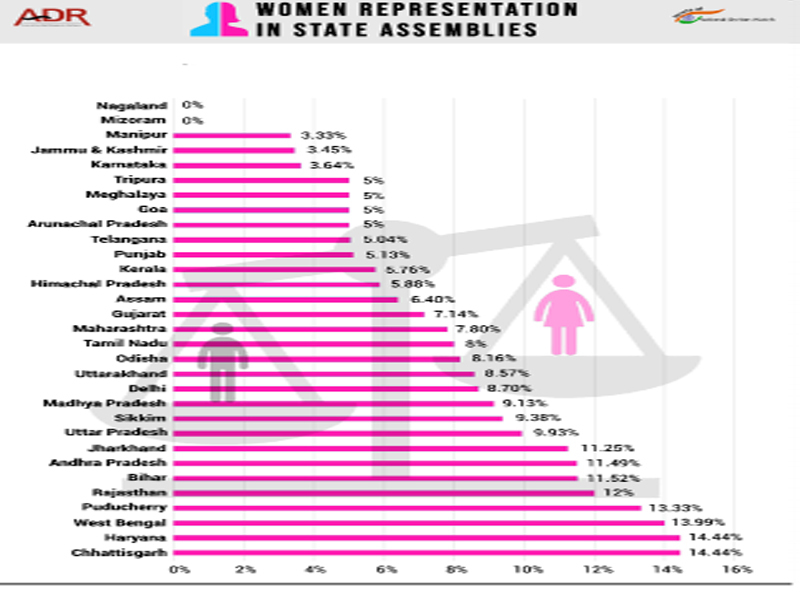 The report states that out of 13 women MLAs, only one woman MLA has declared criminal cases and as many as nine or 69 per cent women MLAs in the state legislative assembly are 'crorepatis'.
As per the ADR report, none of the states had more than 10 per cent women contestants in the assembly elections. States such as Jharkhand, West Bengal, Sikkim and Chhattisgarh had highest percentage of women contestants in their respective assembly elections.
Among these states, Chhattisgarh and Jharkhand stand on second position after Sikkim and West Bengal with 10 per cent women contestants in their respective assembly polls. Out of total 1258 candidates analysed, as many as 126 women candidates had contested in Chhattisgarh state assembly elections so far, says the report.