In both Madhya Pradesh and Chhattisgarh, the number of MLAs facing criminal cases has increased successively since 2008. So has the number of MLAs who have declared assets worth Rs 1 crore or more in their respective affidavits, according to an analysis done by the Association for Democratic Reforms (ADR) with Madhya Pradesh Election Watch and Chhattisgarh Election Watch respectively.
Among Madhya Pradesh's 230 newly elected MLAs, 94 (2 in every 5) declared criminal cases they were facing. Among Chhattisgarh's 90 MLAs, 24 (1 in 4) have cases pending against them. In Madhya Pradesh, 6 MLAs have declared cases relating to attempt to murder, 1 has declared a murder case, and 3 have declared cases relating to crime against women. In Chhattisgarh, 1 MLA has declared a case relating to attempt to murder. The proportion of Madhya Pradesh MLAs facing cases has risen from 26% in 2008 to 41% in 2018, and that of such MLAs from Chhattisgarh from 13% in 2008 to 27% in 2018.

In terms of wealth declared, 4 in 5 MLAs of MP (187) and 3 in 4 of Chhattisgarh (68) are crorepatis. In MP, the rise in crorepati MLAs has been progressive (40% in 2008, 70% in 2013, 81% in 2018). In Chhattisgarh, the rise was more drastic in one 5-year span than in the next (from 35% to 74% to 76%). The highest declarations in 2018 were by BJP's Sanjay Satyendra Pathak (Rs 226 crore) in MP and Congress's T S Singh Deo (Rs 500 crore) in Chhattisgarh.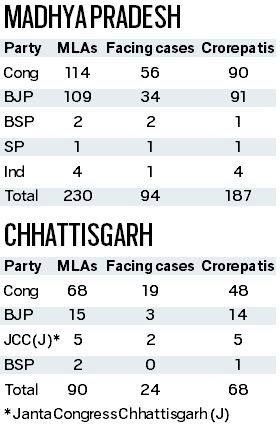 An earlier ADR analysis (reported in The Indian Express last week) found that out of Mizoram's 40 newly elected MLAs, two — both of the Mizo National Front (MNF) — had declared criminal cases in their affidavits. Of the 40, 90% (36) had declared assets worth Rs 1 crore or more, with the highest declaration (Rs 44.75 crore) made by Robert Romawia Royte of the MNF.