Less than half of Gujarat's MLAs had declared that their election expenses in 2012 were less than half the Election Commission limit of Rs 16 lakh, according to an analysis of their declarations done by the Association for Democratic Reforms (ADR) and Gujarat Election Watch.
ADR analysed the election expense declarations by 143 of 182 MLAs — those of the remaining 39 MLAs were not analysed as these were unclear, it said — and found that 65 MLAs, or 45%, claimed to have spent less than half the limit. The declarations by MLAs who had contested bypolls in 2015 were not analysed either.
Satishbhai Motibhai Matel, BJP MLA from Karjan, exceeded the limit by spending Rs 36.76 lakh, the analysis found. The second name on the list, Bariya Chandrikaben Chagganbhai (Congress, Garbada) claimed to have spent under the limit.
The average amount spent by these 143 MLAs was Rs 8.70 lakh — or 54% of the limit. Over a fourth of the spend went into public meetings, processions etc — Rs 2.33 lakh.
The total spend on the 143 campaigns was 12.44 crore.
As far as raising these funds was concerned, the parties are credited with having brought in the most — 92% — while the MLAs claim to have raised 6% themselves and that other sources raised 2%. Of the MLAs, 126 declared that no person, company or association spent any amount on their campaign
BJP Leader Amit Shah Taking Part In "Mann Ki Baat, Chai Ke Saath" Along With Other Party Ministers
On the other hand, as far as spending the funds was concerned, most MLAs claimed to have done the bulk of it themselves. Of the Rs 12.44 crore, only Rs 92 lakh was declared as spent by the parties on 42 MLAs, while the other 101 declared that their parties had not spent on their campaigns at all. Put together, the MLAs declared that they spent 91% themselves, their parties 7% and others 2%
For spending on processions and public meetings, 56 of the MLAs declared that they did not receive any funds from their parties. As many as 137 declared that they had not received any funds from any person/ company/ firm/associations/ body of persons.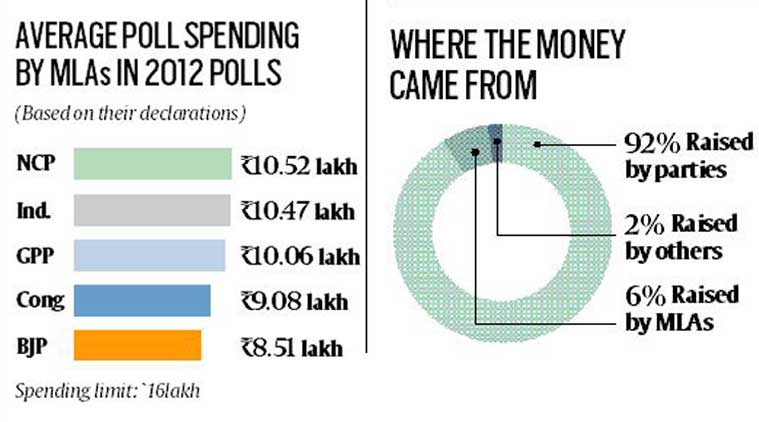 Party-wise, the average declared election expenses were Rs 9.08 lakh (56.8% of the expense limit) for 37 Congress MLAs, and Rs 8.50 lakh (53.2%) for 101 BJP MLAs. The highest average spending declared by any party's MLAs was Rs10.52 lakh (65.8%), by the two NCP members.
Among the 10 MLAs with the lowest declared expenses, the BJP's Bhupendrasinh Chudasama from Dholka (Ahmedabad) claimed to have spent Rs 43,096. Four more of these 10 MLAs were from Ahmedabad — Gyasuddin Shaikh (Dariyapur), Kishorbhai Chauhan (Vejalpur) and Jagrupsinh Rajput (Bapunagar).