JAIPUR: The 14th legislative assembly of Rajasthan has ignored issues like violence against women, atrocities against Dalits and minorities and mob lynching,says an Association for Democratic Reforms (ADR) report The report states that questions on these sectors took a back seat as they were least or not even once asked by the legislators. The ADR prepared this report in association with SR Abhiyan and Rajasthan Election Watch.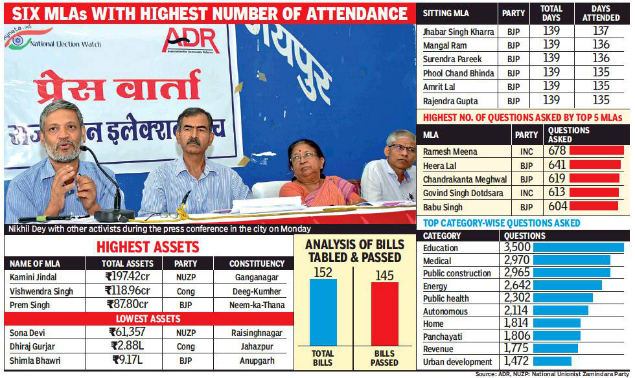 Renuka Pamecha, coordinator of Rajasthan Election Watch who studied the questions raised by MLAs expressed disappointment that issues which have affected the social fabric have been ignored by assembly. "As per the information received by us not a single question was raised on mob lynching. This is unfortunate that the matter which kicked up a storm was conveniently ignored by the legislators," said Pamecha. The state has witnessed half a dozen cases of mob lynching in the last three years. Cases of atrocities against women have also risen but for legislators it was not a priority.
The highest number of questions asked in the assembly were related to education and healthcare. Out of the 42,452 questions asked in 11 sittings of the assembly, 3,325 and 2,970 were related to education and healthcare respectively.
Questions on other core sectors like urban development and housing, revenue and Panchayati Raj which matters for the general public received cold response from the MLAs. Pamecha says that neither the opposition nor the government has done its job effectively.
The highest number of 678 questions were asked by Congress MLA Ramesh Meena. The report further adds that 19 MLAs have not raised a single question.