Prime Minister Narendra Modi addressed public rallies in Maharashtra, Karnataka and Tamil Nadu on Tuesday. In Latur, he shared the stage with Shiv Sena chief Uddhav Thackeray for the first time after the BJP-Shiv Sena inked their alliance for the upcoming Lok Sabha polls.
On the other hand, Congress president Rahul Gandhi addressed rallies in Assam's Hailakandi and Bihar's Gaya district. Congress General Secretary for Uttar Pradesh East Priyanka Gandhi Vadra held a Delhi-Saharanpur-Delhi road-show on Tuesday.
Meanwhile, the campaigning for the first phase of April 11 Lok Sabha polls ended by 5 pm on Tuesday.
Below, we present updates of Lok Sabha Election 2019 live from the battleground:
* As many as 331 (17%) out of 2,007 candidates in the Andhra Pradesh Assembly elections have declared criminal cases against themselves while 220 (11%) have declared serious criminal cases, as per Association for Democratic Reforms (ADR).
* Tamil Nadu Chief Minister K Palaniswami expressed confidence that Narendra Modi will be re-elected Prime Minister and ridiculed the opposition for not having chosen a prime ministerial candidate.
* PM Narendra Modi takes a dig at Rahul Gandhi for contesting from Wayanad seat, says "fear of losing in Karnataka forced the latter to opt for a safe seat in the neighbouring state".
* Election Commission asks probe agencies to take strong action against those using black money to vitiate poll process
* A total of 172 candidates file nomination papers on Tuesday, the last day for submitting the papers for the first phase of Lok Sabha polls in Rajasthan.
* Platform for scribes at Rahul rally venue collapses in Assam's Hailakandi, four journalists injured
* Rs 116 crore in cash seized since March 10 in Andhra Pradesh: Poll officer
* Naxal attack in Dantewada: Election Commission says polling for Lok Sabha Election will go as per the schedule in Chhattisgarh's Bastar constituency .
* Uttarakhand: Election Commission's flying squad recovers Rs 4 lakh in cash from a car at NTD crossing in Almora.
* Campaign ended on Tuesday evening for four Lok Sabha constituencies in Bihar Gaya, Jamui, Nawada and Aurangabad all of which go to polls in the first phase of elections on April 11.
* Lok Sabha election: Rahul Gandhi to file nomination for Amethi on April 10
* Photo Gallery: Tragic photos of Naxal attack in Chhattisgarh's Dantewada
* Dantewada attack: BJP MLA Bhima Mandavi along with four security personnel killed in IED blast carried out by Naxals, said police. The incident comes two days before Chattisgarh goes to polls on April 11.
#SpotVisuals: Convoy of BJP MLA Bheema Mandavi attacked by Naxals in Dantewada. The escort vehicle of Chhattisgarh State Police also came under the blast. 5 personnel of Chhattisgarh State Police are critically injured. pic.twitter.com/ZastP8hrQe

— ANI (@ANI) April 9, 2019
* Campaigning for Uttarakhand's five Lok Sabha seats going to polls on April 11 ended on Tuesday evening. The Prime Minister addressed rallies at Rudrapur and Dehradun while Amit Shah addressed rallies in Uttarkashi and Dehradun.
* Dantewada attack: The Naxalites blew up a vehicle in the convoy with an IED and opened fire at the occupant. At least four security personnel were in the attack, police officials said.
* Breaking: BJP convoy attacked by Naxals in Dantewada. BJP Dantewada MLA Bheema Mandavi was also in the convoy. The incident occurred at Shyamgiri hills when the MLA's convoy was heading towards Kuwakonda from Bacheli area. Further details awaited.
* Rajnikanth wants BJP to fulfil promise of river-linking project if it wins election. Read full report
* RSS leader succumbs to injuries in J&K hospital after terrorist attack. Read full report
* Byelections to 4 vacant assembly constituencies in Tamil Nadu to be held on May 19.
* West Bengal: Election Commission of India transfers Abhishek Gupta from the post of Superintendent of Police of Coochbehar and has posted Amit Kumar Singh in his place.
* BJP candidate Babul Supriyo heckled in Asansol while campaigning for polls. Locals started agitating and asked him where he had been in the last one year. Later his security guards cleared the way.
* CPI(M) appeals to Jammu electorate to vote for secular candidates Jammu in the upcoming Lok Sabha election.
* When the world stood with India after Balakot air strike, those in 'mahamilavat' condemned me, says PM Narendra Modi in Karnataka rally.
* PM Modi lashes out Congress-JDS government in Karnataka, says 'the two parties came together for sake of power'.
* Day after BJP's manifesto release for upcoming Lok Sabha polls, Aam Aadmi Party slams the saffron party for not offering any relief to the traders. "The BJP, which harassed the traders of Delhi through sealing has also not mentioned any relief from the sealing," says AAP's New Delhi candidate Brijesh Goyal.
* The crowd cheers for Congress General Secretary Priyanka Gandhi Vadra at Gol Kothi and other places during her Road Show in Saharanpur. Priyanka held the road show in support of Congress party's candidate Imran Masood.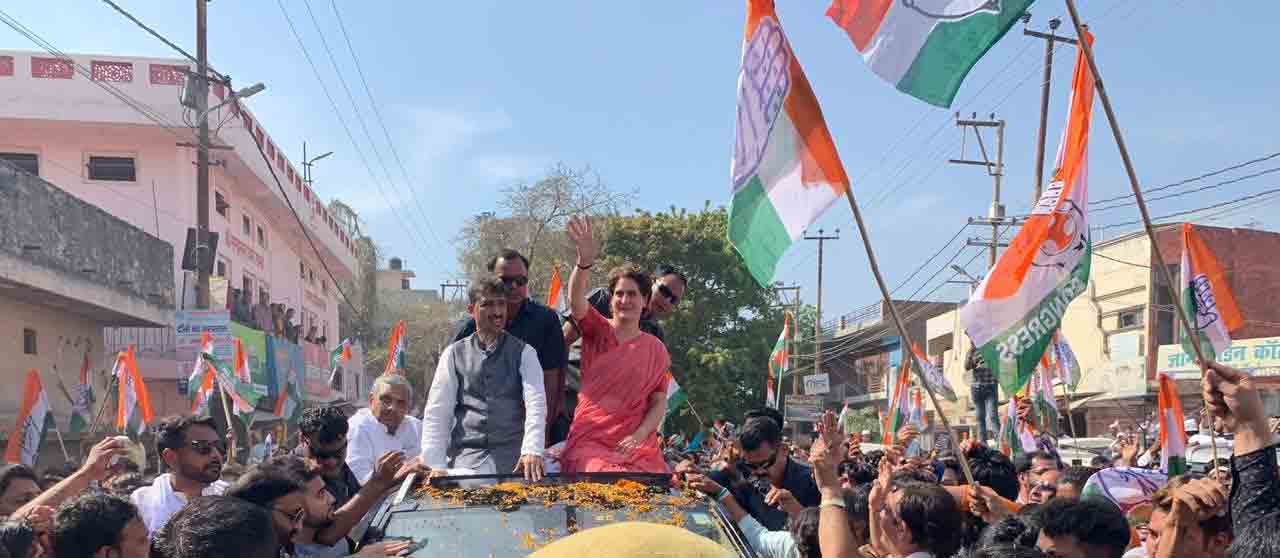 * Former JNU students' union leader Kanhaiya Kumar files nomination as Communist Party of India (CPI) candidate from Bihar's Begusarai constituency.
Former JNU students' union leader Kanhaiya Kumar files nomination as Communist Party of India (CPI) candidate from Begusarai constituency. #Bihar #LokSabhaElections2019 pic.twitter.com/dW8nnoeZq0

— ANI (@ANI) April 9, 2019
* CPI (M) holds a massive rally in West Bengal's Bolepur
Glimpses of the massive rally at Bolepur LS Constituency as LF nominated CPIM candidate Comrade Ramchandra Dom submitted his nomination. Defeat BJP-TMC, elect Left and ensure Secular Govt at the Centre. #Vote4Left #LokSabhaElection2019 pic.twitter.com/MeQYsQOGeI

— CPI(M) WEST BENGAL (@CPIM_WESTBENGAL) April 9, 2019
* SP leader and former UP CM Akhilesh Yadav's wife took to Twitter:
सराब को ऐब बताने वालों के समर्थक शराब के नशे में 'बेटी बचाओ' का नारा भूल गए और अपनी असलियत दिखा बैठे।

मेरठ की जिस छात्रा से बदसलूकी हुई कॉलेज ने भी उसी को सस्पेंड कर दिया।

जब संस्थाएं भी अपनी विश्वसनीयता खो दें तो इंसाफ़ की माँग किससे की जाए? https://t.co/0QBJIiuhf8

— Dimple Yadav (@dimpleyadav) April 9, 2019
* Shiv Sena president Uddhav Thackeray Tuesday and PM Modi addressed a poll rally in Maharashtra's Latur for the first time in 28 months. "Our government today doesn't just talk about teaching Pakistan a lesson," Thackeray said. "Pradhan Mantri ji, our only expectation from you now is that deal Pakistan such a blow that nothing of it remains to mess (with India) again," he said.
In his speech, Modi called Uddhav his 'younger brother' and recalled that the Congress had 'withdrawn' citizenship of late Bal Thackeray.
* Asaduddin Owaisi attacks BJP: "For how long will you continue deceiving the government in Kashmir over Article 370 and 35A of the Constitution. You've now been in power for five years."
* Madhya Pradesh Chief Minister Kamal Nath files nomination for bye-election to Chhindwara assembly seat. His son Nakul Nath files nomination for Lok Sabha Election 2019 to the Chhindwara parliamentary constituency.
* On one hand, is our policy and intention, and on the other hand is our opponent's double-sided attitude: PM Modi at Latur
* I have come to know that you are sitting here since 9.30 AM. You are sitting here in this extreme heat. I won't let your 'tapasya' go in vain. I will return this to you with interest: PM Modi at Latur
* PM Modi addresses a rally in Maharashtra's Latur:
PM Shri @narendramodi is addressing a public meeting in Latur, Maharashtra. Watch LIVE at https://t.co/xgtInBg4x3 #IsBaarNaMoPhirSe pic.twitter.com/J6Ns3YZ4WT

— BJP LIVE (@BJPLive) April 9, 2019
* Smriti Irani on Rahul Gandhi's tweet: "Rahul Gandhi has a special obsession with BJP. Had he been focussed on the country, the nation would have come to know his vision for it."
"Despite having a vision, there's a question mark on his efficiency as the nation knows the condition of Amethi. On one hand, there's an efficient govt which has taken the resolution to build a New India, on the other there's a man who stays restricted to making announcements," she added.
* Tamil Nadu: Residents of Melasirupothu village in Ramanathapuram district took out a protest march on Monday. The villagers have decided to boycott Lok Sabha Election 2019 alleging non-availability of basic facilities in their area and non-payment of crop insurance money 2017-18. "There's no proper road connectivity or drinking water facility here, no good schools for children. We didn't receive payment under rural employment scheme or crop insurance money for 2017-18. Despite repeated pleas to admn, we didn't receive anything. So boycotting polls," said a local.
* Congress leader Priyanka Gandhi Vadra's campaign schedule in Uttar Pradesh, on April 9:
11:00 am: Arrival at Bijnaur
11.30 am-12.30 pm: Roadshow
12.45 pm: Departure from Bijnaur
1.10 pm: Arrival Saharanpur Airfield
1.45 pm: Roadshow from Gol Kothi to Qutub Sher (Distance- 1.7 km)
3.30 pm: Departure for airport
3.45 pm: Swagat at Kairana while en route to the airport
4.30 pm: Departure for Delhi
* BSP releases a list of five candidates for upcoming Lok Sabha poll
BSP releases a list of 5 candidates for #LokSabhaElections2019 pic.twitter.com/LyGEm1OJBJ

— ANI UP (@ANINewsUP) April 9, 2019
* CPI candidate Kanhaiya Kumar, who is fighting the Lok Sabha election from Begusarai in Bihar, will file his nomination today.
* "The Congress manifesto was created through discussion. The voice of over a million Indian people it is wise and powerful. The BJP Manifesto was created in a closed room. The voice of an isolated man, it is short sighted and arrogant," tweets Congress chief Rahul Gandhi.
The Congress manifesto was created through discussion. The voice of over a million Indian people it is wise and powerful.

The BJP Manifesto was created in a closed room. The voice of an isolated man, it is short sighted and arrogant.

— Rahul Gandhi (@RahulGandhi) April 9, 2019
* The port city of Visakhapatnam is set to witness a contest between a political heavyweight and three debutants in the first phase of the Lok Sabha election on April 11. Former Union minister Daggubati Purandeswari (BJP), former IPS officer V V Lakshmi Narayana (Jana Sena Party), Stanford graduate M Sri Bharath (Telugu Desam Party) and realtor M V V Satyanarayana (YSR Congress) are the main contenders for this parliamentary seat. Read more.
* The Telugu Desam Party (TDP) is locked in a fierce battle for power with the YSR Congress Party (YSRCP) as the stage is set for single-phase polling for simultaneous elections to 175-member Andhra Pradesh Assembly and for 25 Lok Sabha seats on April 11. Read more
* Modi, Trump campaigns similar, both play with people's emotions: Congress leader Sam Pitroda
* Janata Dal (Secular) supremo H D Deve Gowda pitched Andhra Pradesh Chief Minister and Telugu Desam Party (TDP) chief N Chandrababu Naidu as the opposition's choice for the next Prime Minister. Naidu, however, denied vying for PM's post. "I am not an aspirant for any post," he said. READ MORE
* Shahjahanpur: Sanyukt Vikas Party's candidate Vaidh Raj Kishan rode a horse dressed as a bridegroom, to file his nomination yesterday for #LokSabhaElections2019 . He says "Rajniti ka daamad bann ke jaa raha hoon. Dulhan toh 28 May ke baad aaegi." (08.04.2019) pic.twitter.com/2wUiSliEbB
— ANI UP (@ANINewsUP) April 9, 2019
* THe AIADMK has lodged a complaint with the Election Commission against DMK's newspaper and television advertisements. In its complaint, the party said the DMK election campaign ads allege the state government purposely opened fire at the protestors against Sterlite Copper smelter plant in Thoothukudi last year. The AIADMK said the DMK has violated Election Commission`s order that states no political party should use funeral photos, coffins and dead bodies in their campaign.
* Non Cognizable Offence Information Report registered against sitting BJP MP from Unnao, Sakshi Maharaj for allegedly violating Model Code of Conduct (MCC): ANI
* Based on the post-poll scenario, the Samajwadi Party-Bahujan Samaj Party alliance to take a call whether to include Congress, said sources in the two parties. The reaction from these two parties came after AICC general secretary (west Uttar Pradesh) Jyotiraditya Scindia said the option to be a part of the SP-BSP alliance is open for the Congress after the Lok Sabha polls.
"The SP and BSP will take a call on having the Congress in the alliance based on the circumstances post polls," senior leaders of the alliance told news agency PTI on condition of anonymity.
* Trinamool Congress will play a crucial role in forming the next government at the Centre, party supremo and West Bengal Chief Minister Mamata Banerjee said. "There will be no government formed without the TMC. They (the BJP) have only one arrogant man in him (Prime Minister Narendra Modi). But we have so many leaders who have credibility... So, we will decide it (on the PM face of the opposition alliance) later.. Let the elections be over," she told a Bengali news channel.
"I do not want power. I want Bengal to show the path and help form a new government at the Centre. When nobody can, it's Bengal that can show the light," she added.
* For the first time in 28 months, Prime Minister Narendra Modi and Shiv Sena President Uddhav Thackeray will share the stage at an election rally in Latur on Tuesday. The last time they came together was for performing the 'jal pooja' for the proposed grand memorial of Chhatrapati Shivaji Maharaj, in the Arabian Sea, off Chowpatty in Mumbai. Read more.
* PM Modi to hold election rallies in Maharashtra's Latur, Karnataka's Chitradurga and Mysuru, and Tamil Nadu's Coimbatore.
PM Modi program schedule
- Public meeting at Tulajapur Corner, Nilanga Road, Ausa, District Latur (Maharashtra)- 10 am
- Public meeting at Government Science College Ground, B.D. Rd, District Chitradurga (K'taka)- 12 noon
- Public meeting at Maharaja College Ground, Mysore (Karnataka)- 2:40 pm
- Public meeting at Codissia Grounds, Avinashi-Peelamedu Road, Coimbatore (Tamil Nadu)- 4 pm
* Congress president Rahul Gandhi to campaign in Assam's Karimganj and Barak Valley, Bihar's Gaya and Odisha's Digapahandi.
* BJP national president Amit Shah to participate in Puri roadshow. As per reports, the roadshow will begin from Singha Dwara (Lion's Gate) of Shree Jagannath Temple and end at the Puri's Mausi Maa Temple.