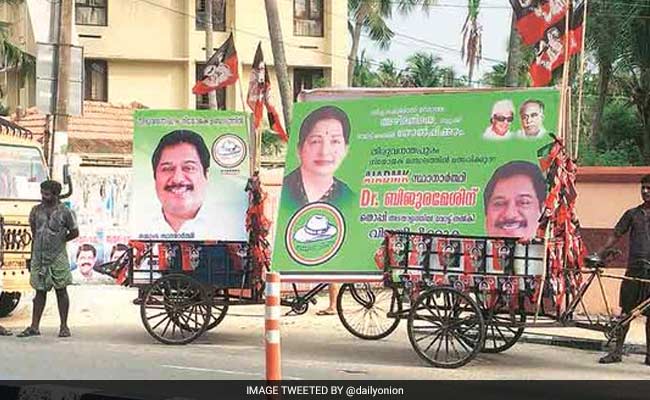 NEW DELHI:  The main fight in Kerala may be between the Congress-led UDF and the Left, but two of the three richest candidates in the assembly polls are from the AIADMK, a Tamil Nadu party.
This has been revealed by a study conducted by the Kerala Election Watch and the Association for Democratic Reforms (ADR), which analysed the self-sworn affidavits of 1,125 of the 1,203 candidates in the May 16 battle.
It said 78 candidates were not analysed due to unclear affidavits on the website of the Election Commission.
The richest candidate in Kerala is Biju Ramesh (Thiruvananthapuram) of the All India Anna Dravida Munnetra Kazhagam or AIADMK, with Rs.188 crore.
He is followed by Thomas Chandy (Kuttanad) of the NCP (Rs.92 crore) and C Abdul Kader (Perrumade), also of the AIADMK, with Rs.54 crore.
According to the election watchdogs, the seven candidates fielded in Kerala by the AIADMK, which rules neighbouring Tamil Nadu, have an average assets of Rs.35.14 crore.
Thirty-six Bharath Dharma Jana Sena (BDJS) candidates have average assets of Rs.3.19 crore, followed by 85 Congress candidates (Rs.1.83 crore), 84 CPI-M candidates (Rs.1.51 crore) and 97 BJP candidates (Rs.1.03 crore).
Seven candidates, all independents, have declared zero assets. Three other candidates, including two independents and one from the BSP, have no immovable assets and their movable assets are worth Rs.100 each.
A total of 86 percent of CPI-M candidates (72 out of 84) have criminal cases, followed by 60 percent of CPI (15 out of 25), 44 percent of Congress (37 out of 85) and 43 percent of BJP candidates (42 out of 97).
According to the watchdogs, of the total 1,125 candidates, 311 (28 percent) have declared criminal cases against them.
Four candidates are battling murder and 19 attempt to murder charges.
A total of 669 candidates have studied between Class 5 and 12, 380 are graduates or above, 29 are simple literates and seven candidates are illiterate.