http://www.thehindubusinessline.com/news/politics/key-political-parties-spent-rs-136-cr-on-publicity-travel/article5282125.ece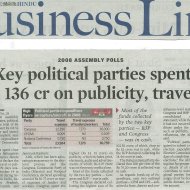 During the 2008 Assembly elections in six States, political parties collected a total of Rs 182.12 crore and spent Rs 135.52 crore on publicity and travel, including by helicopters, says an analysis of poll expenditure by Association of Democratic Reforms (ADR).
While Congress spent close to Rs 23 crore on helicopters and aircraft, Bharatiya Janata Party (BJP) did not declare the amount spent on travel or publicity during the 79 days analysed by ADR (October 14 to December 31, 2008) during Assembly elections in Delhi, Rajasthan, Madhya Pradesh, Chhattisgarh, Mizoram and Jammu & Kashmir.
ADR, which has been advocating transparency in the electoral process, said the Congress, Communist Party of India (Marxist) and National Conference, declared spending a total of Rs 30.75 crore on travel expenses of leaders and workers. Congress spent the highest (Rs 24. 25 crore) on publicity, which includes print, electronic, audio and advertisements, of which, Rs 6.97 crore was on electronic media alone.
Most of the funds collected by the two key parties — Congress and BJP — was in cash.
The Congress declared collecting the highest sum of Rs 102.56 crore, of which, close to Rs 82 crore was in cash, while the BJP declared collecting Rs 14.44 crore in cash.
The Bahujan Samaj Party declared that 100 per cent of the Rs 76.20 crore it collected was in cash.
As regards break-up of expenditure, only two national partiess — CPM and CPI — submitted a State, district and constituency-level statement. The Congress and BSP submitted a consolidated expenditure statement, while the BJP stated it had not incurred any expenditure under the five heads, such as publicity, travel, miscellaneous, the ADR analysis said.
"Political parties are required to submit a statement of election expenditure to the Election Commission within 75 days of completion of Assembly elections," the ADR said, adding that for greater transparency, details of all donors who contribute to national and regional parties for poll campaigns must be declared in the public domain, irrespective of the amount.