http://indianexpress.com/article/india/politics/442-crorepatis-richest-worth-rs-683-cr/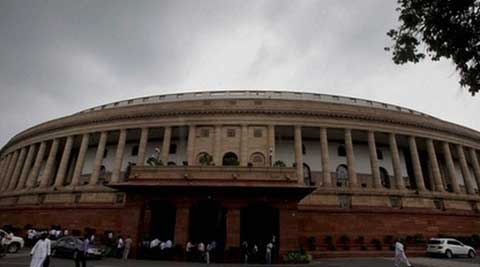 The 16th Lok Sabha is set to have 442 crorepatis. The Bharatiya Janata Party leads the club with 237, and ally Telugu Desam Party has the richest member, whose assets cross Rs 683 crore.
Data of 541 winners of the Lok Sabha polls showed 186 have criminal cases and112 have 'serious' criminal cases against them.
The Congress has 35 crorepatis, the AIADMK 29 and the Trinamool Congress 21. There could be some overlap — crorepatis having criminal cases — since data of 541 winners (data about two were unclear) were scanned.
A report of the Association for Democratic Reforms shows the average assets of crorepatis in the soon-to-be-constituted Lok Sabha is Rs 14.61 crore which translates into a total of Rs 6,500 crore.
Out of the 521 winners analysed in the 2009 Lok Sabha elections, there were 300 crorepatis.
Telugu Desam's Jayadev Galla, who won from Guntur, has assets of over Rs 683 crore and is set to be the richest MP followed by Rs 528 crore of Telangana Rashtra Samithi's Konda Vishweshwar Reddy, elected from Chelvella. BJP's Gokaraju Ganga Raju who won Narsapuram will be the third richest, with assets worth over Rs 288 crore.
BJP's Sumedha Nand Saraswati, who won from Sikar in Rajasthan, has shown only Rs 34,311.
BJP's Mahant Chand Nath Yogi, who won from Alwar in Rajasthan and Trinamool Congress's Uma Saren, who's won from Jhargram in West Bengal, have assets worth Rs 1.99 lakh and 4.99 lakh, respectively.
There are 96 winners who have declared liabilities of Rs 1 crore and above and 16 have liabilities of Rs 10 crore and above, the ADR report states. The highest liability of over Rs 71 crore has been declared by Telugu Desam candidate Srinivas Kesineni, who won from Vijayawada in Andhra Pradesh.
BJP's Poonam Mahajan has liabilities of Rs 41.44 crore followed by Shiromani Akali Dal's Harsimrat Kaur Badal, with Rs 41.26 crore liabilities.
Of the 541 winners analysed, 112 have serious criminal cases including cases related to murder, attempt to murder, disturbing communal harmony, kidnapping, and crimes against women against them. Data of 521 of the total winners in 2009 showed 158 had criminal cases and 77 faced serious charges.
In education, 405 winners of 2014 Lok Sabha elections were graduates or above, 125 class 12 or below. A TDP winner declared himself as an illiterate, and three winners from BJP and one each from Trinamool Congress and RJD declared themselves "literate".  The self-sworn affidavits of 541 of the Lok Sabha winners were analysed.