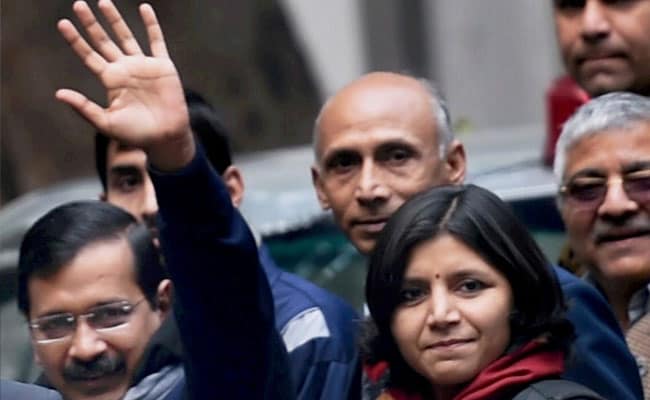 NEW DELHI: 
 The Aam Aadmi Party might not be so "aam (common)" after all. Arvind Kejriwal's party has fielded almost as many "crorepati" or billionaire candidates in Delhi as have rivals BJP and Congress, says a report by the Association of Democratic Reforms or ADR.
Here are the top 10 points from the ADR report:
On an average AAP candidates this time are more than twice as rich as they were in December 2013. Average assets per candidate in the Congress has declined from R

s.

 14.25 crore toR

s.

 9.60 crores, in the BJP from R

s.

 8.29 crore to R

s.

 7.96 crores. But in the AAP it grew from R

s.

 2.49 crore to rs 5.89 crore.
The AAP - which owes its birth to a campaign for clean politics - matches its rivals on candidates with criminal cases too. AAP has more candidates with criminal cases at 23 (11 with serious charges), than the Congress with 21 (11 with serious charges) and a few less than the BJP, which has 27 (17 with serious charges).
17 per cent of the total candidates have criminal case against them, 11 per cent have serious criminal cases against them. ADR has sounded a "red alert" for 19 constituencies in Delhi which have at least three candidates with declared criminal cases.
The Congress leads the list of the richest candidates - 59 of its 70 candidates have assets of a crore plus, the BJP comes next with 50 of its 69 candidates and 44 of AAPs 70 candidates are "crorepatis."
The richest candidate is the Akali Dal's Manjinder Singh Sirsa and the second richest is the AAPs Parmila Tokas.
In the list of top 5 candidates with incomes more than one crore a year declared in Income tax returns are two from AAP and one each from the Akali Dal, the BJP and the Congress.
230 of the 673 candidates in the fray for Delhi's 70 seats are crorepatis. In the elections held in December 2013, 265 out of 796 candidates had assets worth more than one crore.
80 candidates have declared assets less than R

s.

 1 lakh. No Congress, BJP or AAP candidate figures on the list of the four with the least assets. Sushil Kumar Mishra of the Akhil Bharat Hindu Mahasabha has declared that he has zero total assets.
The Congress is fielding candidates for all 70 seats as is AAP. The BJP has 69 candidates and its ally the Akali Dal has one.
Elections will be held in Delhi on February 7 and votes will be counted on February 10. ADR has analysed election affadavits filed by the 673 candidates in the fray.