http://articles.timesofindia.indiatimes.com/2013-10-27/indore/43431920_1_political-parties-rs-100-crore-demand-drafts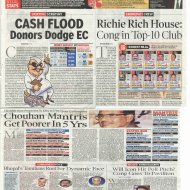 INDORE: Cash counters of political parties are ringing in the run-up to the polls, but a huge chunk of transactions is escaping the hawk-eyed glare of the Election Commission.
Donors have found a novel way to skip scrutiny by staggering donations within the Rs 20,000 limit set by the poll panel.
A think-tank, Association for Democratic Reforms (ADR) claims the funds glut in the election season is a matter of concern for those advocating clean politics; a bigger worry for them is most donations are received in cash within the Rs 20,000 permissible limit. Funds collected through cheques and demand drafts have reduced drastically. For instance, 90% of the total money received by political parties in Madhya Pradesh in last five years was in cash.
"Such a practice allows parties to hide the source of donations because they are not obligated to identify donors who give less than Rs 20,000," said ADR's state coordinator Rolly Shivhare.
Talking to TOI, one of the founders of ADR, Jagdeep Chhokar said, "Three industries plough in funds for elections. These include construction, mining and education and the common thread running through them is cash transaction. This is what raises the doubt about what kind of money is used for electioneering purpose".
A Bhopal-based economist, Rajendra Kothari, said, "I assume BJP will spend Rs 400 cr against Rs 203 cr in the last Assembly polls and Congress is likely to spend Rs 250 crore. This is Rs 100 crore more than 2008 poll."
The issue was that the corporate houses, having their interest in the state, not only spend for the ruling party, but also have to shell out funds to the party in Opposition, said Kothari.
President of Ahilya Chamber of Commerce & Industry (ACCI), Ramesh Khandelwal, said, "We do give donations to political parties. But it happens on an individual basis and that too from our own pockets, without even mentioning it in our books. This is not officially permitted by the government".
Asecretary Sushil Sureka also agrees that donations by corporate houses take place at a large-scale disregarding the political hue of the party. "Still, we are unable to know the exact amount as they are never disclosed publicly," said Sureka.
An Indore-based social activist, Chinmay Mishra, said, "Though the scenario will be clear by month-end, I still believe hidden expenses by political parties will increase this time".