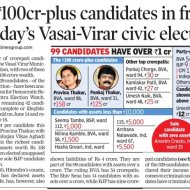 MUMBAI: A number of crorepati candidates are contesting the Vasai Virar Municipal Corporation election, with two of them having more than Rs 100 crore wealth. 
The affidavits of 329 candidates—of the 371 contesting the election—have been analysed by the Association for Democratic Reforms and Maharashtra Election Watch. The affidavits of the remaining 42 candidates were either incomplete or illegible. The election will be held on June 14 and results declared on June 16. 
The average asset per candidate this election Rs 2.30 crore. Pravina Thakur, wife of Vasai MLA and Bahujan Vikas Aghadi president Hitendra, is the richest candidate with declared assets worth Rs 158 crore. Pravina has been elected unopposed from ward 98 after the sole BJP candidate withdrew nomination. 
Pankaj Thakur (50), Hitendra's cousin, also from the BVA has declared assets worth Rs 125 crore. He, has, however, also shown liabilities of Rs 4 crore. They are part of the 99 candidates with assets over a crore. The ruling BVA has 54 crorepatis. The Shiv Sena has 14 candidates with assets over a crore, while BJP has nine crorepati candidates (see box). Interestingly, 253 of the 329 candidates surveyed have not declared their income tax details. When it comes to criminal cases, 54 of the 329 candidates have criminal cases.