http://epaper.indianexpress.com/c/1414280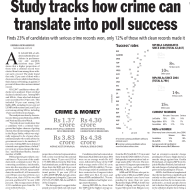 An analysis of affidavits submitted by candidates in parliamentary and assembly elections since 2004 shows that a higher proportion of those with a criminal record were elected than from among those without such a record. The study found that only 12 per cent of those with a clean record won, which it described as their chances of winning, as against 23 per cent of those who a serious criminal record.
Of 62,847 candidates whose affidavits were analysed, 18 per cent had declared criminal cases. Among MPs and MLAs , those who had declared cases accounted for 29 per cent. This included 30 per cent among Lok Sabha MPs, including 14 per cent (of LS MPs) with serious cases, and 31 per cent among sitting MLAs, including 15 per cent with serious charges.
The analysis was done by Association for Democratic Reforms (ADR) and National Election Watch. "Not only do our results show that a candidate with a criminal background has higher chances of getting elected, what is interesting is that even in the Rajya Sabha, which was originally supposed to be a house where eminent people who could advise the government were to be members, 17 per cent of sitting MPs have declared criminal cases against them, of which 7 per cent are serious charges like murder," said Trilochan Shastry, founder member of ADR.
Political parties gave tickets a second time to 74 per cent of the candidates with a criminal record. The re-contesting candidates, incidentally, were also the ones whose wealth had grown the most. Of 4,181 repeat candidates, the wealth of 1,615 increased to over 200 per cent, that of 684 to over 500 per cent, that of 420 to over 800 per cent, and that of 317 to over 1,000 per cent. The average assets of these 4,181 candidates grew from Rs 1.74 crore to Rs 4.08 crore.
Regional parties have a higher proportion of elected representatives with a crime record than the national ones do. About 75 per cent (103 of 137) MPs/MLAs from the Shiv Sena had criminal cases, as did 46 per cent of those from the RJD and 44 per cent of those from the JD (U). Among national parties, 31 per cent (520 of 1,689) of BJP MPs/MLAs had a criminal background, alongside 22 per cent (527 of 2,451) MPs, MLAs and MLCs of the Congress.
The data appears to suggest richer people are more likely not only to get party tickets but also to win elections.
Candidates who had contested on Shiromani Akali Dal tickets since 2004 were on an average worth Rs 6.02 crore, followed by those of the TDP with average assets of Rs 5.61 crore and those of JD (S) with Rs 4.72 crore. The average assets of candidates who have contested on Congress tickets since 2004 were Rs 4.32 crore, and those of BJP candidates Rs 1.79 crore. Women candidates had higher average assets than men.
Among MPs/MLAs, those from the TDP had the highest average assets, Rs 8.72 crore, followed by those from the JD (S) with Rs 7.72 crore and those from the SAD with Rs 6.27 crore. Independent representatives had average assets of Rs 7.23 crore. The average assets of Congress representatives was Rs 5.81 crore, and those of BJP MPs/MLAs Rs 2.88 crore.
ADR and NEW have also put together a list of MLAs and MPs whose declared criminal cases have been pending for more than ten years. Rameswar Singh, SP MLA from Uttar Pradesh's Aligunj, and his party colleague Mitrasen from Bikapur constituency in the same state have each had an attempt-to-murder charge pending for 28 years. Singh also has a murder charge against him. Guddu Premchand, a Congress MP from Ujjain in Madhya Pradesh, has had murder and charges of voluntarily causing grievous hurt pending for 29 years.
ADR's Anil Bairwal emphasised that the list had been compiled based entirely on the candidates' own declarations and was by no means comprehensive, as many people choose not to declare the period of pendency in the affidavit despite there being a column for that.